Details
Overview

Extend your Network
The D-Link® PowerLine AV 500 Network Kit (DHP-309AV) extends your home network by transforming your existing electrical system into a powerful network. Easily add computers, laptops and entertainment systems to your wired network without turning your home into a wired mess. And setup couldn't be easier – just plug and connect. There's no need for drilling holes or messy wiring. And if you want to build your network further, just plug and connect additional adapters. The compact and flat design doesn't block other plugs in an outlet or protrude from the wall. It's perfect for conserving space and power outlet capacity.
PowerLine AV + Advantage
PowerLine AV + technology maximizes performance to give speeds up to 35% faster than conventional PowerLine AV 200 adapters. Get up to PowerLine AV 500 speed delivered to any outlet in your home. This means you can watch videos, surf the Web or catch up on email in spots where you can't get a good wireless signal. Plus, PowerLine AV+ gives you up to 20% better coverage than conventional PowerLine AV 200 adapters. This means fast speeds throughout your home.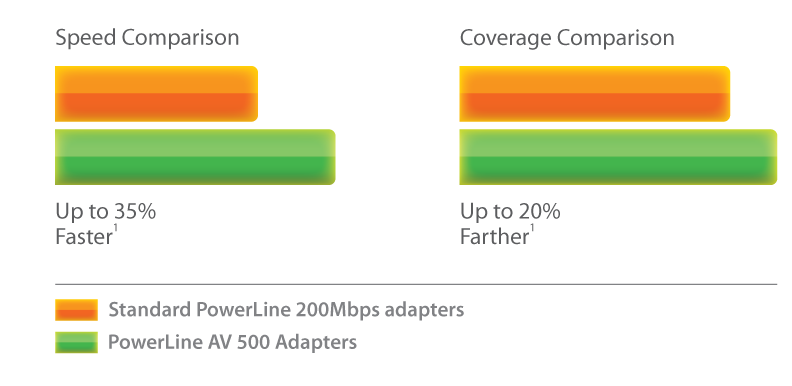 Specifications


Standards

IEEE 802.3
IEEE 802.3u
IEEE 1901
HomePlug AV

Ethernet Interface

10/100Base Ethernet Port with Auto MDI/MDIX

Security

128-bit AES Data encryption

Input Power

100V ~ 240V, 50/60 Hz

LEDs

Power
PowerLine
Ethernet

Power Saving

Power saving mode supported
Power Consumption

<5W
Operating Temperature

33º to 104ºF (0º to 40ºC)

Operating Humidity

10% to 90% non-condensing

EMC Certifications

FCC
CE

Safety Certifications

UL
CE LVD

Dimensions

2.7" x 2.1" x 1.0" (MM)
(70 x 52 x 26 mm)

Weight

0.23lbs (104g)
Warranty

1-Year Limited Warranty
Additional Information
| | |
| --- | --- |
| Condition | Brand New |
| Manufacturer | D-Link |
| Availability | In Stock at Suppliers (1-3 Business Days) |
| Price | $61.00 |
Product Tags
Use spaces to separate tags. Use single quotes (') for phrases.
Copyright © 2018 - PC LAN PTY LTD - All rights served.
The PC LAN Online web site is owned and operated by PC LAN Pty Ltd (ABN 50 093 838 512).
Copyright 2018 PC LAN PTY LTD