Description
Built for seamless collaboration
Work in comfort and in style with a sleek new All-in-One design, built-in intelligent collaboration & security features, plus an optional pop-up 5MP IR camera with Express Sign-In and Intelligent Privacy.
Intelligence meets simplicity
Intelligent desktops for every workstyle 
Find your OptiPlex in just two steps: 
Select your form factor, then choose the right features for the job.
Simplified management:
Our new OptiPlex desktops with 13th Gen Intel® core processors feature one BIOS for All-in-Ones and one BIOS across Towers, Small Form Factors and Micro Form Factors.

Collaboration at your fingertips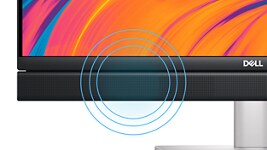 Intelligent Audio
Automatically adapts dual-speaker and mic levels to your surroundings and eliminates background noise.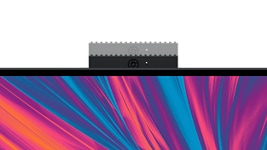 Optional pop-up 5MP IR camera
A 5MP camera with IR and Proximity Sensor with a lower, slightly tilted profile that ensures user is front and center during video calls.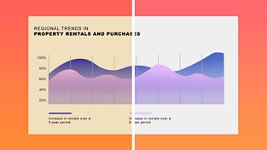 Low Blue Light certification
Work comfortably all day, and night. Available on Touch and Non-touch panels.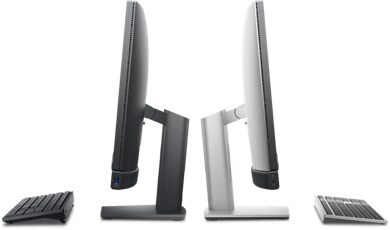 Look sleek, save space
Aesthetics are in: 
Choose a sleek new silver or dark gray design with all new ergonomic stand options.

Adjusts to you: 
Easily adjust your screen up and down with our new All-in-One Height Adjustable Stand.
Everything at your finger tips:
Choose a touch or non-touch screen.
Expand your performance with up to 2 M.2 SSD storage drives and optional AMD discrete graphics.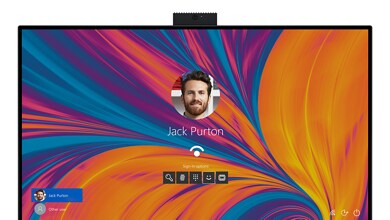 Work smarter
Get ahead:
Dell Optimizer Express Sign-In enables User Presence Detection with wake-on-approach so you can get to work faster than ever.
Stay secure:
Protect your desktop and data when you leave your workspace with walk away lock.
Easy on IT:
Intel vPro
®
platform options deliver modern management capabilities and hardware-enhanced security.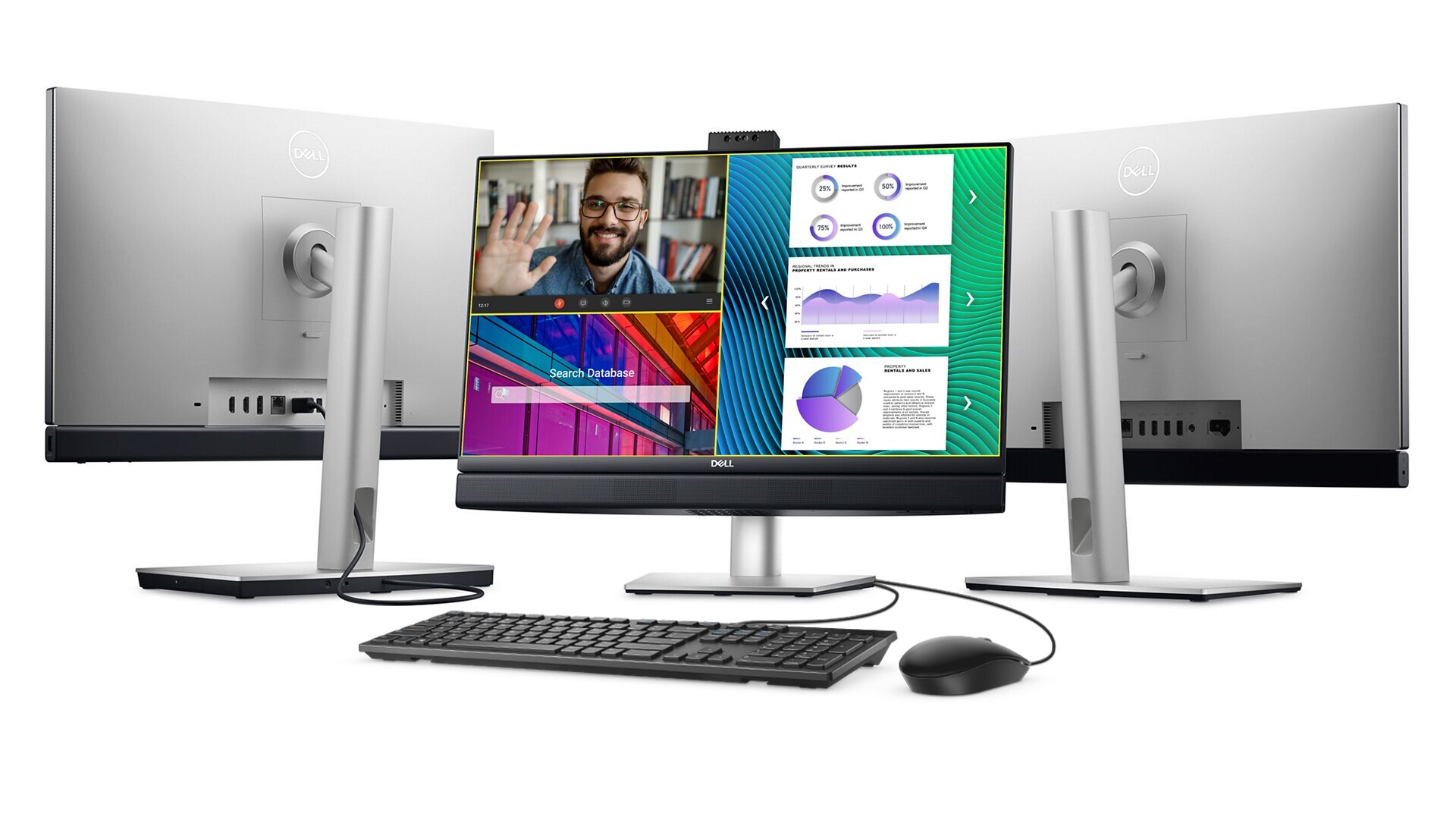 Smart and secure
Part of the Dell Trusted Devices portfolio:
OptiPlex offers protection before-, below-, and above-the-OS ensuring a comprehensive defense framework to evolving threats.
Part of the Dell Cloud Client Workspace portfolio:
Instantly connect to virtual workspaces with OptiPlex All-in-One, now available as a thin client solution. Confidently access VDI environments with versatile thin client software options, including Dell Hybrid Client. All powered by Cloud Client Workspace.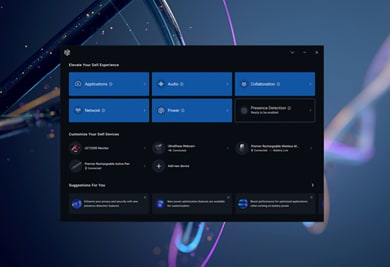 Dell Optimizer
Intelligence built around you: 
Automatically personalise and boost the performance of your system and its entire ecosystem with Dell Optimizer, an AI-based optimisation software that learns and responds to the way you work.
Personalised Performance: 
Intelligence and machine learning elevate productivity by automatically personalising performance features across your entire ecosystem, making them the Dell's most intelligent PCs.
Intelligent Collaboration: 
Get the Dell's most intelligent collaboration experience with smart audio conferencing, connectivity and productivity features – all in one software.
Safe, secure and manageable:
We ensure optimisation and data collection follows a stringent process to keep your information safe. Any data we do gather is analysed locally on your system to improve your personal PC experience.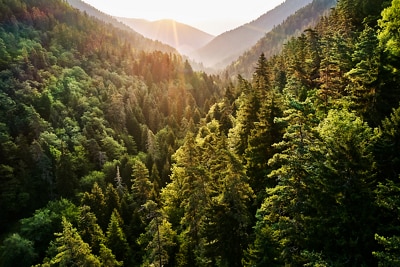 Advancing Sustainability
OptiPlex was our first product to be made with recycled plastic in 2007 and the first to use materials from our closed-loop supply chain in 2014. Today, OptiPlex All-in-One desktops contain up to 43% recycled material, are EPEAT registered, and are Energy Star certified.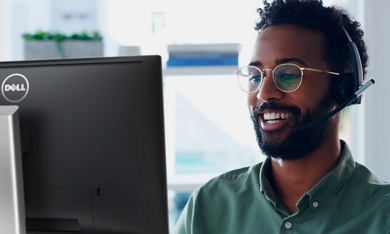 Dell APEX PC-as-a-Service
Accelerate anywhere work experiences with customizable plans to help you deploy, manage, support devices. Leverage both the built-in protections of the industry's most secure commercial PCs and software protections for advanced threats to help ensure a trusted workplace for a predictable price per month.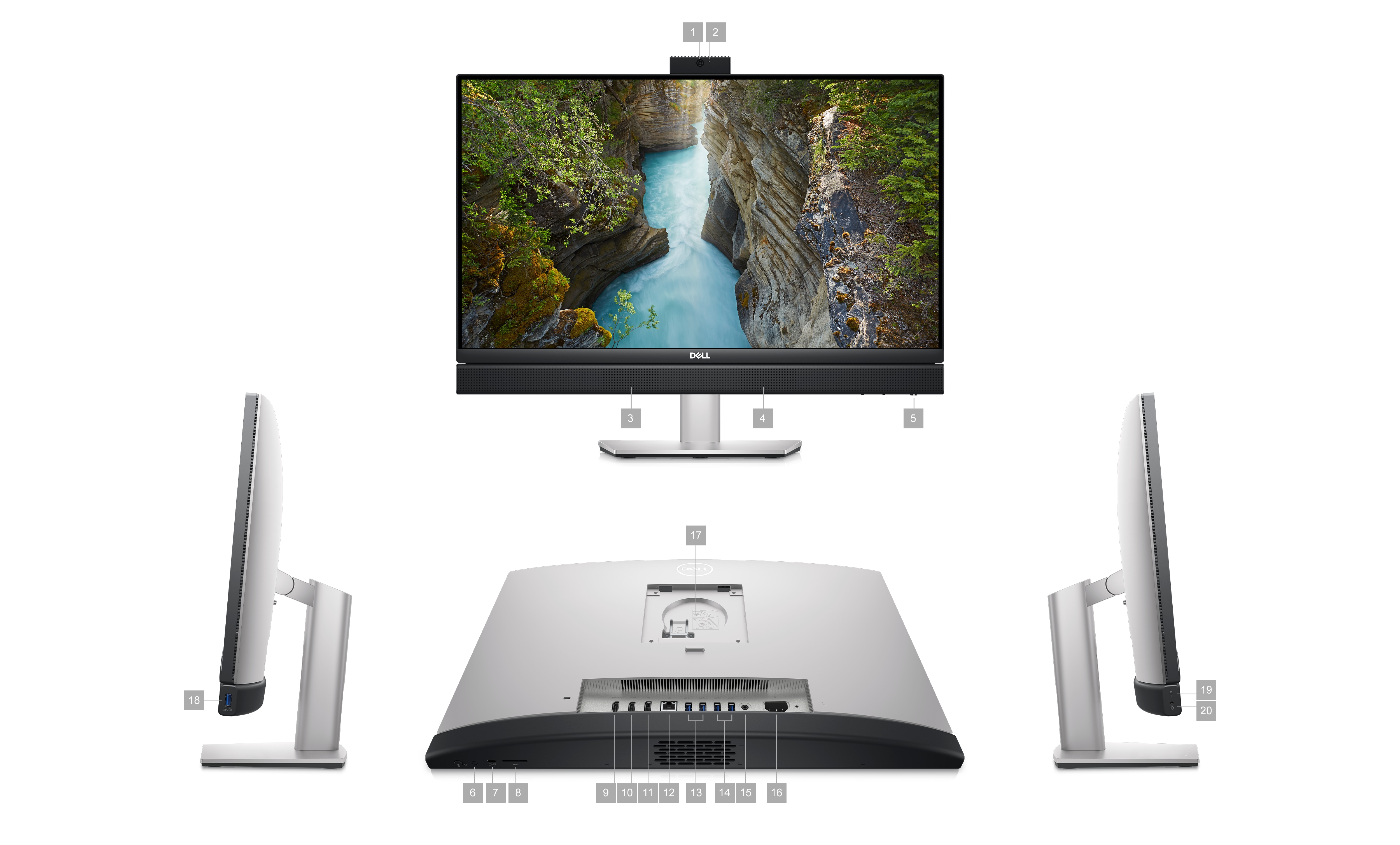 Ports & Slots
1. FHD camera; 5MP EMZA camera (optional)
2. Microphones
3. Speaker
4. Speaker
5. Power button
6. Video select button
7. USB 3.2 Gen 2x2 Type-C port
8. SD 4.0 card slot
9. HDMI 2.1 port (up to 4096 x 2160 @ 60Hz)
10. HDMI 1.4 port (HDMI-in)
11. DP 1.4a port (up to 5120 x 3200 @ 60Hz)
12. RJ45 10/100/1000 Mbps Ethernet port
13. USB 3.2 Gen 1 Type-A ports with Smart Power On
14. USB 3.2 Gen 2 Type-A ports
15. Audio line-out port
16. Power connector
17. VESA bracket for stand
18. USB 3.2 Gen 2 Type-A port with PowerShare
19. Drive status indicator
20. Universal audio port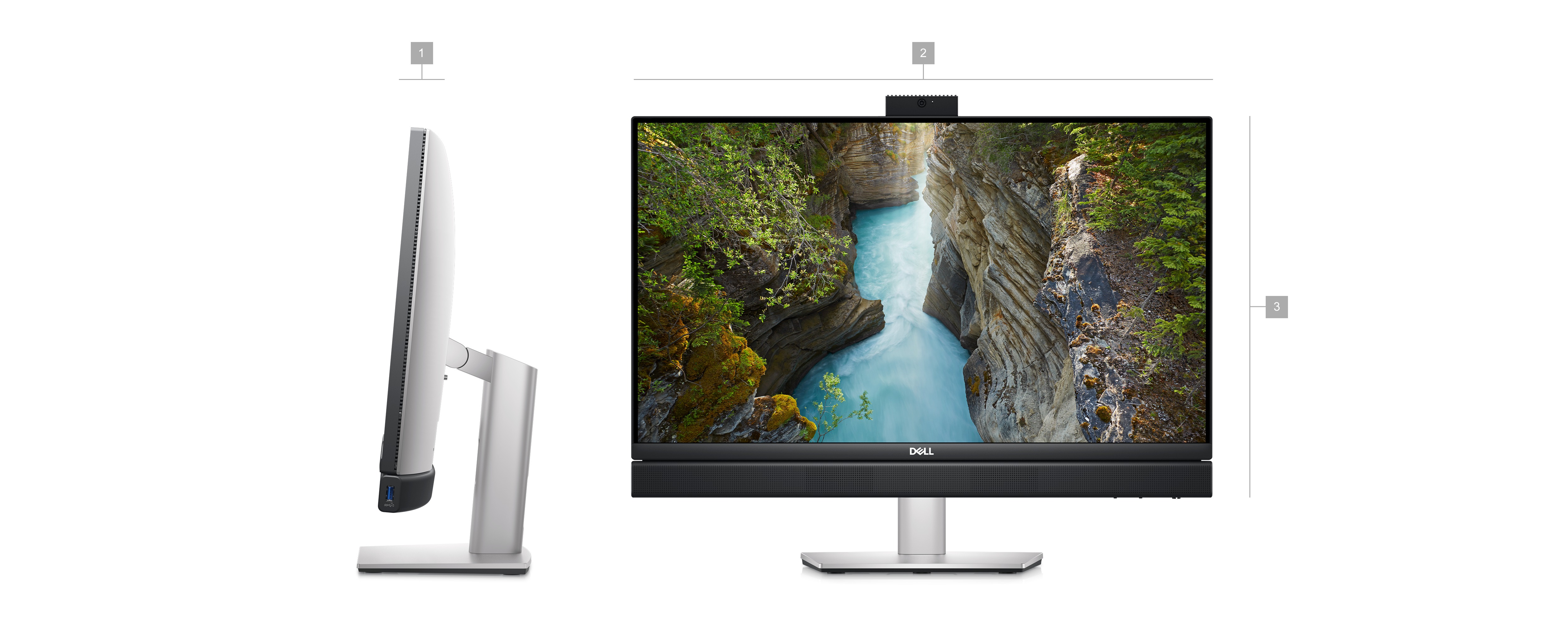 Dimensions & Weight
1. Depth: 57.90 mm (2.28 in.)
2. Width: 540.00 mm (21.26 in.)
3. Height: 354.30 mm (13.95 in.)
Weight (min): 6.33 kg (13.95 lbs.) (without stand)
Weight (max): 6.76 kg (14.90 lbs.) (without stand)
Specifications

| | |
| --- | --- |
| MODEL | OptiPlex 7410 AIO |
| SPECIFICATION SUMMARY | Dell OptiPlex7410 AIO - i5-13500T | 8GB | 256GB | 24" Non Touch | 3Y Onsite |
| PROCESSOR | Intel® Core™ i5-13500T (6+8 Cores/24MB/20T/1.6GHz to 4.6GHz/35W) |
| MEMORY | 8 GB, 1 x 8 GB, DDR4 |
| STORAGE | M.2 2230 256GB PCIe NVMe Class 35 Solid State Drive |
| VIDEO CARD | Intel® Integrated Graphics |
| WIRELESS | Intel® Wi-Fi 6E AX211, 2x2, 802.11ax, Bluetooth® wireless card |
| KEYBOARD | Dell Wired Keyboard KB216 Black (English) |
| MOUSE | Dell USB Optical Mouse-MS116 (EPEAT) |
| SYSTEMS MANAGEMENT | No Out-of-Band Systems Management |
| OPERATING SYSTEM | Windows 11 Pro, English |
| WARRANTY | 3Y Basic Onsite Service |
Before your contact us for return and warranty of your purchase, please be aware the following terms and conditions.
*All return enquiry should send to RA@pclan.com.au to avoid delay.
All products must be installed by a qualified technician or knowledgeable person. Any damage or faulty due to incorrect installation may void the product warranty.
Any warranty requires proof of purchase (invoice) issued by PC LAN Pty Ltd. For missing invoice and enquiry for invoice search or re-print, $15.00 administration and processing fee will be charged. Please contact

accounts@pclan.com.au

for your enquiry.
Customer should contact the

manufacturer

for their support and advice as the majority of warranties are directly provided by them. As a reseller, PC LAN is also required to comply with these requirements. If the manufacturer is unable to offer a replacement or repair for a faulty product and instructs the end user to return the product. Customer should contact us with the reference/case number provided by the manufacturer, along with our tax invoice number. Our team will then contact the supplier to verify the return/replacement authorization and initiate a return case.
If the returned product is found to be physically damaged during transit due to inadequate packaging, the warranty will be voided and the product cannot be exchanged or refunded.
All returned items will be tested upon arrival and will attract a handling fee of $20 plus return postage to customer if found to be in perfect working condition.
Please note free or bonus items are covered only by 7-day-Dead-on-Arrival policy, hence please contact us at once if the item is found to be defective within 7 days of receiving. Please feel free to contact us if there are any questions.
Due to health and hygiene reasons, microphones, earphones and headphones can only be returned if they are unopened within 30 days of purchase and are completely sealed or faulty.
The benefits provided to you under the various warranty of different items are in addition to other rights and remedies available to you under the Australian Competition and Consumer Act. In Australia, our goods come with guarantees that cannot be excluded under the Australian Consumer Law. You are entitled to a replacement or refund for a major failure and for compensation for any other reasonably foreseeable loss or damage. You are also entitled to have the goods repaired or replaced if the goods fail to be of acceptable quality and the failure does not amount to a major failure. For more information visit

Australian Consumer Law's website
Page Index
---
1. Change of Mind / Non-Faulty Returns
We encourage customers to carefully consider their purchases before placing an order. However, if a non-faulty item needs to be returned due to a change of mind or incorrect purchase, please refer to our policy below:
The item must be in stock at PC LAN at the time of purchase. Custom build items and special order-in items that are not part of our regular inventory may be rejected.
The item must be returned within 30 days of delivery in its original undamaged packaging.
The item must be unused and still factory sealed.
If the item has been opened, a restocking fee of 20% will be charged as the item is no longer considered brand new.
If the item has been used, the return may be rejected or a restocking fee of up to 50% may be charged.
Any delivery or insurance costs incurred are not refundable and not included in the restocking fee.
We reserve the right to refuse a refund if the item is not in resalable condition, including damaged or missing packaging or parts.
Software, printers with unsealed ink, and other consumable items cannot be returned.
Microphones, earphones, and headphones can only be returned if unopened and completely sealed within 30 days of purchase due to health and hygiene reasons.
To initiate a Change of Mind / Non-Faulty return, request must be sent to

RA@pclan.com.au

wihtin 14 days of purchase for final approval.
2. DOA & Warranty Returns
All brand new products (with the exception of consumable products and software) sold by PC Lan Pty Ltd are covered by Australian manufacturer warranty. For used or ex-demo product, warranty terms will be stated in the listing, or otherwise, customer can contact us for warranty information.
2.1. DOA Returns (Product Dead on Arrival)
If your item is confirmed to be defective when delivered, it will be treated as Dead On Arrival (DOA). The DOA period is 14 days from your invoice date. DOA claims are eligible for a refund or replacement after the faulty item has been returned to us.
Please note:
Customer must contact us within 14 days of your invoice date.
In order to expedite your DOA claim, please obtain a manufacturer reference number which confirms that your item may be faulty.
Customers are responsible for covering the shipping costs of returning faulty items, while PC Lan will cover the return freight costs for replacement units. We do not offer reimbursement for any shipping costs incurred by customers.
The item should be returned to us within 14 calendar days of the issuance of the return label. Where possible, all items should be packed in the original, undamaged /unmarked packaging including any accessories, manuals and documentation that shipped with the item. If the accessories are missing, we reserve the right to reject the DOA claim or apply only a partial refund
The processing time for a DOA return is up to 2 weeks from the time we receive it. This allows us to send the DOA unit to the vendor for testing and fault verification.
2.2. Warranty Returns
If a product is outside the 14-day DOA period, the standard manufacturer warranty terms will apply. As some of our products, like electronics and computers, require specialized support, we strongly recommend that you first contact the manufacturer for troubleshooting assistance. Their support team is more knowledgeable in diagnosing and resolving issues and can help minimize delays that may arise from us acting as an intermediary. However, if the manufacturer is unable to assist, our team can step in and provide further assistance. Our product's Manufacturer Contact.
Please note:
Customers are responsible for covering the shipping costs of returning faulty items, while PC Lan will cover the return freight costs for replacement units. We do not offer reimbursement for any shipping costs incurred by customers.
The processing time is generally 1-3 weeks from the time we receive the faulty unit.
Certain products requires end-user contact manufacturer support team to obtain reference number for processing warranty claim. Please check our

Manufacturer Contact

for details.
Please note that the warranty claim may result in a repair, replacement, or store credit at PC LAN, depending on the manufacturer's approval. Refunds are not available under any circumstances.
Invoice or Order number and item's serial number (if applicable) must be provided for warranty claim. We cannot process warranty request without proof of purchase.
3. Return of Faulty Products:
Once we receive a faulty product, we will send it to the manufacturer or their authorized service center for assessment. However the return will be rejected in below cases:
without PC LAN approved RA Number attached on return package
item is damaged due to misuse or inadequate packageing in transit
serial number does not match tax invoice record
After we receive the repaired or replacement unit from manufacturer, we will arrange return delivery to you.
Note: If the fault is not covered by the manufacturer's warranty or extended warranty (if applicable), we will provide you with a quote for the repair cost and any costs associated with the processing of the return prior to returning the product(s) to you.
4. Manufacturer Contact:
Company

Phone/Email

Acer Service Centre

1300 362 328 (Laptop, LCD)
service@asus.com.au (Warranty); doa_au@asus.com (DOA)

APC

13 73 28 (Tech Support)
Contact Support Online

ASUS

1300 278 788
Service Centre Location

Belkin

1800 235 546 (English only 24/7)

Live Chat - For Phone Docks, Screen protectors, Chargers and Cables, Wireless Routers and Wireless Adapters

Cisco

1800 805 227
tac@cisco.com (TAC - Technical Assistance Centre}

CyberPower

1300 431 808
au.service@cyberpower.com

D-Link

1300 766 868
*Return accept only if case number granted

Dahua

1800 327 457
DAS Tech Support DAS.TechSupport@dickerdata.com.au
*Return accept only if case number granted

Eaton

1300 877 877
eeshelpdesk@eaton.com

Epson Service Centre

1300 361 054

Fujitsu Service Centre

1800 288 283

Fujixerox

1800 883 668

LaCie

*Please contact LaCie (Seagate) for Warranty

Lenovo

131 426
PC Support

Lexmark (Return to PC Lan)

(07) 3377 5888

LG Service Centre

1800 643 156

Linksys

1800 605 971
Live Chat or Twitter
*Return accept only if case number granted

Logitech

1800 025 544

HP Service Centre

131 047; 1300 721 147 (Printer); 131 047 (scanner)
Live Chat

IBM Service Centre

1800 289 426

Kingston

1800 620 569

Motorola

1300 138 823

Zebra

1800 457 439 / TSAPAC@zebra.com (Printers)

Philips

1300 651 993

Qnap

Contact QNAP Support
*Return accept only if case number granted

Samsung Service Centre

1300 362 603

Seagate

Sony

1300 137 669

Synology

Contact Synology Support
*Return accept only if case number granted

Toshiba

(02) 9887 6000; 13 30 70

Viewsonic Centre Centre

1800 880 818

Wacom

(02) 9422 6700

Western Digital