Description
Quick Spec
Components
Specification
Processor/Speed
Intel Xeon Silver 4309Y 2.8GHz
Processor Cores
8 Cores
Memory
1x16GB installed (u

p to 8TB by using 32x 256GB 3DS RDIMMs

) 

Drive Bays/Drives
8x 2.5" SAS

; Open bay

Maximum internal storage


2.5-inch drives:

368.64TB using 12x 30.72TB 2.5-inch SAS/SATA SSDs
368.64TB using 12x 30.72TB 2.5-inch NVMe SSDs
28.8TB using 12x 2.4TB 2.5-inch HDDs

EDSFF drives

122.88TB using 16x 7.68TB EDSFF NVMe SSDs

3.5-inch drives:

88TB using 4x 22TB 3.5-inch HDDs
61.44TB using 4x 15.36TB 3.5-inch SAS/SATA SSDs
51.2TB using 4x 12.8TB 3.5-inch NVMe SSDs

RAID Controller

9350-8i
Power Supply
1x750W installed, up to two hot-swap redundant AC power supplies
Form factor

1U rack

Operating systems supported

Microsoft Windows Server, Red Hat Enterprise Linux, VMware ESXi. See the Operating system support section for specifics.

Limited warranty

Three-year or one-year (model dependent) customer-replaceable unit and onsite limited warranty with 9x5 next business day (NBD).
The Lenovo ThinkSystem SR630 V2 is an ideal 2-socket 1U rack server for small businesses up to large enterprises that need industry-leading reliability, management, and security, as well as maximizing performance and flexibility for future growth. The SR630 V2 is designed to handle a wide range of workloads, such as databases, virtualization and cloud computing, virtual desktop infrastructure (VDI), infrastructure security, systems management, enterprise applications, collaboration/email, streaming media, web, and HPC.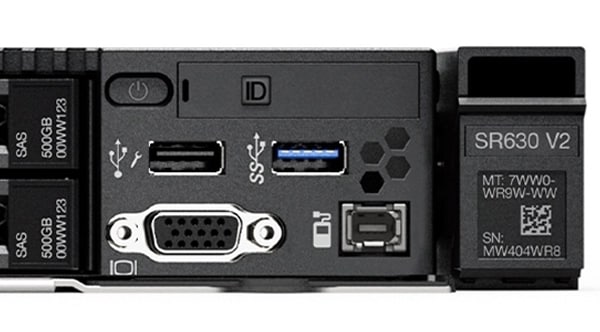 Future defined data center
Lenovo delivers engineered, tested and certified IT solutions that are high performance, scalable and cost-effective. By combining industry-leading x86 server technology and reliability, partnering to deliver best-in class co-innovation and providing end-to-end peace of mind with Lenovo ThinkShield, XClarity, and Services, Lenovo solutions enable customers to use real-time data to drive actionable insights. As the compute for these solutions, ThinkSystem SR630 V2 makes businesses smarter by providing support for data analytics, hybrid cloud, hyperconverged infrastructure, video surveillance, high performance computing and much more.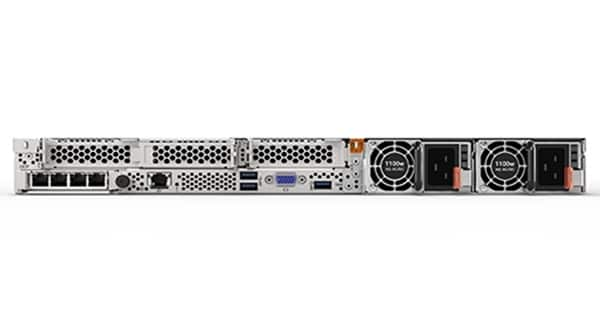 Workload-optimized support
ThinkSystem SR630 V2 is tuned for Intel® Optane™ Persistent Memory 200 series. With this second generation of high performing persistent memory tier optimized for 3rd generation Intel® Xeon® Scalable processors, it offers significantly lower data latency, higher capacities and greater value. With data stored closer to the processor, applications can access data faster driving swifter response times for real-time analytics, financial transactions, electronic medical records, fraud detection, and much more.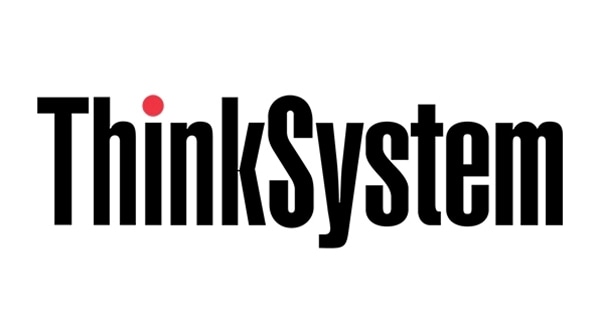 Flexible storage
Industry leading backplane design for Lenovo AnyBay™ features a choice of drive interface type in the same drive bay: SAS drives, SATA drives, U.2 & U.3 NVMe PCIe drives, or EDSFF-based SSDs. Freedom to configure some of the bays with PCIe SSDs and still use the remaining bays for capacity SAS drives provides the ability to upgrade to more PCIe SSDs in the future as needed.
Specifications
Components
Specification
Intel Xeon Processor
1x Silver 4309Y 8C 105W 2.8G
Memory
1x 16GB
RAID
9350-8i
Drive bays 
8x 2.5" SAS; Open bay
Power supply 
1x750W
Machine types
7Z70 - 1 year warranty
7Z71 - 3 year warranty
Form factor
1U rack.
Processor
One or two third-generation Intel Xeon Scalable processor (formerly codenamed "Ice Lake"). Supports processors up to 40 cores, core speeds of up to 3.6 GHz, and TDP ratings of up to 270W.
Chipset
Intel C621A "Lewisburg" chipset, part of the platform codenamed "Whitley"
Memory
32 DIMM slots with two processors (16 DIMM slots per processor). Each processor has 8 memory channels, with 2 DIMMs per channel (DPC). Lenovo TruDDR4 RDIMMs and 3DS RDIMMs are supported. DIMM slots are shared between standard system memory and persistent memory. DIMMs operate at up to 3200 MHz at 2 DPC.
Persistent memory
Supports up to 16x Intel Optane Persistent Memory 200 Series modules (8 per processor) installed in the DIMM slots. Persistent memory (Pmem) is installed in combination with system memory DIMMs.
Memory maximum
With RDIMMs: Up to 8TB by using 32x 256GB 3DS RDIMMs
With Persistent Memory: Up to 12TB by using 16x 256GB 3DS RDIMMs and 16x 512GB Pmem modules
Memory protection
ECC, SDDC (for x4-based memory DIMMs), ADDDC (for x4-based memory DIMMs, requires Platinum or Gold processors), and memory mirroring.
Disk drive bays
Up to 4x 3.5-inch or 12x 2.5-inch or 16x EDSFF hot-swap drive bays:
Front bays can be one of the following:
10x 2.5-inch hot-swap: All AnyBay
10x 2.5-inch hot-swap: All NVMe
10x 2.5-inch hot-swap: 6x SAS/SATA + 4x AnyBay
10x 2.5-inch hot-swap: 6x SAS/SATA + 4x NVMe
10x 2.5-inch hot-swap: 6x SAS/SATA + 2x AnyBay + 2x NVMe
8x 2.5-inch hot-swap SAS/SATA
16x EDSFF E1.S form factor hot-swap drives
4x 3.5-inch hot-swap SAS/SATA
4x 3.5-inch hot-swap AnyBay
Rear can be one of the following:
2x 2.5-inch hot-swap SAS/SATA bays
2x 2.5-inch hot-swap NVMe bays
2x 7mm 2.5-inch hot-swap SATA bays
2x 7mm 2.5-inch hot-swap NVMe bays
Internal M.2 module supporting up to two M.2 drives, for OS boot and drive storage support
See Supported drive bay combinations for details. AnyBay bays support SAS, SATA or NVMe drives. NVMe bays only support NVMe drives. Rear drive bays can be used in conjunction with 2.5-inch front drive bays. The server supports up to 12x NVMe drives all with direct connections (no oversubscription).
Maximum internal storage
2.5-inch drives:
368.64TB using 12x 30.72TB 2.5-inch SAS/SATA SSDs
368.64TB using 12x 30.72TB 2.5-inch NVMe SSDs
28.8TB using 12x 2.4TB 2.5-inch HDDs
EDSFF drives
122.88TB using 16x 7.68TB EDSFF NVMe SSDs
3.5-inch drives:
88TB using 4x 22TB 3.5-inch HDDs
61.44TB using 4x 15.36TB 3.5-inch SAS/SATA SSDs
51.2TB using 4x 12.8TB 3.5-inch NVMe SSDs
Storage controller
12x Onboard SATA ports (Intel VROC SATA RAID, formerly known as Intel RSTe RAID)
Up to 12x Onboard NVMe ports (includes Intel VROC NVMe RAID, with optional license for non-Intel NVMe SSDs)
NVMe Retimer Adapter (supports Intel VROC NVMe RAID)
12 Gb SAS/SATA RAID adapters
8, 16 or 32 ports
Up to 8GB flash-backed cache
PCIe 4.0 or PCIe 3.0 host interface
12 Gb SAS/SATA HBA (non-RAID)
8-port and 16-port
PCIe 4.0 or PCIe 3.0 host interface
Optical drive bays
No internal optical drive.
Tape drive bays
No internal backup drive.
Network interfaces
Dedicated OCP 3.0 SFF slot with PCIe 4.0 x16 host interface. Supports a variety of 2-port and 4-port adapters with 1GbE, 10GbE and 25GbE network connectivity. One port can optionally be shared with the XClarity Controller (XCC) management processor for Wake-on-LAN and NC-SI support.
PCI Expansion slots
Up to 3x PCIe 4.0 slots, all with rear access, plus a slot dedicated to the OCP adapter. Slot availability is based on riser selection and rear drive bay selection. Slot 3 requires two processors.
Four choices for rear-access slots:
3x PCIe 4.0 x16 low-profile slots
1x PCIe 4.0 x16 full-height half-length slot + 1x PCIe 4.0 x16 low-profile slot