Description
Quick Spec
| | |
| --- | --- |
| Components | Specification |
| Processor/Speed | Intel Xeon E-2356G 3.2GHz |
| Processor Cores | 6 |
| Memory (Standard/Max/Type) | 16GB/128GB/TruDDR4 |
| Slots x Bays Total (Avail) | 0(0) x 8(8) |
| Internal Hard Disk (Max) | 16TB |
| Supported Hard Disk | 2.5" SATA/SAS |
| Power Supply | 1x 550W HS / 2 PT |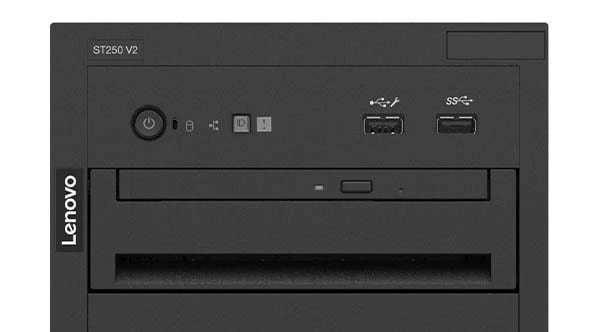 Enterprise power
The ThinkSystem ST250 V2 provides businesses with enterprise-level power in a standalone tower designed for small spaces.
With the next-generation Intel® Xeon® E-2300 processors, the ThinkSystem ST250 V2 is a robust solution for simplifying your enterprise IT infrastructure applications, near-side data backup and edge computing.
Manage your data your way with a wide range of storage options and seamless integration via Lenovo's XClarity management system.
This robust tower server includes end-to-end security provided by Lenovo ThinkShield. Securing your device, data, identity, and online solutions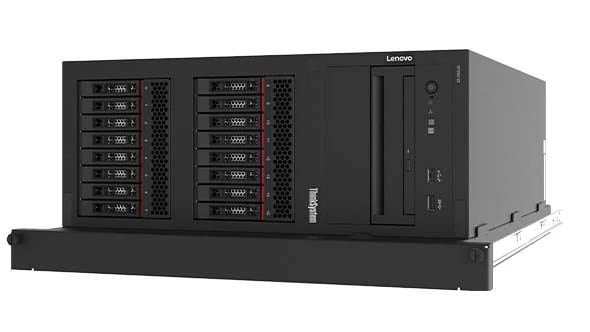 Enterprise flexibility
The ThinkSystem ST250 V2 is designed with the flexibility to grow with your business. It utilizes highly expandable storage configurations, GPU support, multiple PCIe expansion slots to easily adapt as your requirements change.
Lenovo XClarity software provides easy-to-use systems management and dramatically reduces provisioning time, while an array of XClarity integrators allow utilization of XClarity through external IT applications to streamline IT management and contain costs.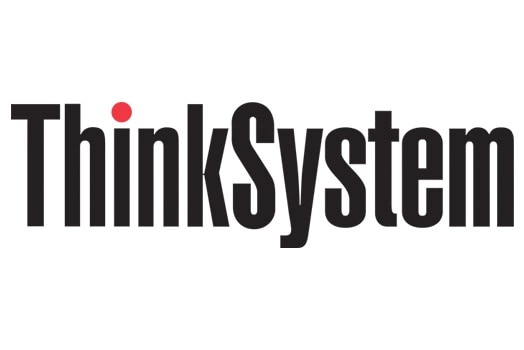 Designed for remote use
Providing increased dependability for an environment without dedicated on-site IT support, the ThinkSystem ST250 V2, includes components that boost server uptime, and workplace productivity. It is easily maintained, reliable for remote server operation.
To add peace of mind for remote operation the ThinkSystem 250 V2 includes dual redundant power supplies, a lockable front bezel and Lenovo ThinkShield Security software.
The ThinkSystem ST250 V2's compact size and quiet operation Is designed for discreet placement in remote office/branch office or retail locations.
Specifications
Components
Specification
Intel processor
Xeon E-2356G 6C 80W 3.2G

Memory

1x 16GB
Drive controller
SATA
Drive bays / Drives
8x 2.5-in HS / Open bay
Power supply

1x 550W HS / 2 PT
Machine type
7D8K - 1 year warranty
7D8J - 3 year warranty
Form factor
Tower (can be installed in a rack with the available Rack Mount Kit)
Processor
One Intel processor. Choose from:
Intel Xeon E-2300 Series processors ("Rocket Lake-E") up to to 8 cores, with core speeds up to 3.7 GHz
Intel Pentium G6405, G6505 and G6605 processors ("Comet Lake Refresh") with 2 cores, with core speeds up to 4.3 GHz
Chipset
Intel C256 chipset ("Tiger Lake") part of the "Tatlow" platform
Memory
Four DIMM sockets supporting Lenovo TruDDR4 DIMMs at 3200 MHz (Xeon processors) or 2666 MHz (Pentium processors). Support ECC UDIMMs.
Memory maximums
Up to 128 GB using 4x 32 GB UDIMMs.
Memory protection
Error-correcting code (ECC)
Disk drive bays
Up to 3x non-hot swap (NHS) drive bays:
2x 3.5-inch NHS drive bays supporting HDDs or SSDs
1x 2.5-inch NHS drive bay supporting an SSD
The server can be configured without any HDDs or SSDs. The server also supports 1x NVMe M.2 drive installed in a socket on the system board as a boot drive.
Maximum internal storage
3.5-inch drives:
16TB using 2x 8TB 3.5-inch HDDs
1.92TB using 2x 960GB 3.5-inch SATA SSDs
2.5-inch drives:
960GB using 1x 960GB 2.5-inch SATA SSDs
HDDs and SSDs can be installed in the same server but are not supported in the same RAID volume
Storage controller
Onboard 6 Gb SATA controller, supporting AHCI mode (non-RAID) or Intel RSTe software RAID (RAID 0, 1, 5)
RAID 5350-8i adapter
4350-8i SAS/SATA 12Gb HBA
Optical drive
Optional slim DVD-RW drive in dedicated bay.
Network interfaces
One integrated Gigabit Ethernet 1000BASE-T port (RJ-45) using Intel I219-LM controller.
PCI Expansion slots
Three PCIe slots as follows:
Slot 1: PCIe 4.0 x16 full-height half-length (FHHL)
Slot 2: PCIe 3.0 x1 FHHL
Slot 3: PCIe 3.0 x4 (physical connector is x16) FHHL
With a Pentium processor, Slot 1 is PCIe 3.0.
Ports
Front ports:
Five USB ports
1x USB 3.2 G2 with USB-C connector (10Gbps)
2x USB 3.2 G2 (10Gbps)
2x USB 3.2 G1 (5Gbps)
Microphone port*
Headset port*
Rear ports:
Four USB ports (all USB 3.2 G1 (5Gbps)
Two DisplayPort video ports (require a processor with integrated graphics)
One RJ-45 Gigabit Ethernet port
One serial port
One audio line-out port*
* Windows 10 and Windows 11 only; some line noise is possible
Audio
Mono amplifier (speaker) mounted on the inside of the front bezel; Audio line-out port at the rear of the server; microphone and headset ports at the front of the server
Cooling
Two fixed system fans. Additional fans attached to the processor and power supply. Supports ASHRAE A2 environments.
Power supply
One fixed power supply, either 300W (80 PLUS Gold) or 500W (80 PLUS Platinum) power supply.
Hot-swap parts
None
Systems management
Power and drive activity LEDs. Intel Active Management Technology (AMT) 15.0 server management. Supports Integrated Lenovo XClarity Provisioning Manager Lite (USB memory key-based) for system setup and firmware upgrades. No support for XClarity Controller (XCC).
Security features
Power-on password, administrator's password, Trusted Platform Module (TPM), supporting TPM 2.0. Optional Chassis intrusion switch. Padlock loop and Kensington cable slot for physical security.
Video
Integrated Intel Graphics Technology (Intel GT) on most processors - see the Processors section. Two DisplayPort ports. Maximum resolution is 3840 x 2160 pixels (4K) at a refresh rate of 60Hz. On servers with a processor that does not have integrated graphics, the two DP ports are not connected and a separate GPU adapter is required. See GPU adapters for details.
Operating systems supported
Microsoft Windows Server, Red Hat Enterprise Linux, VMware ESXi. See the Operating system support section for specifics.
Limited warranty
Three-year or one-year (model dependent) customer-replaceable unit and onsite limited warranty with 9x5 next business day (NBD).
Service and support
Optional service upgrades are available through Lenovo Services: 4-hour or 2-hour response time, 6-hour fix time, 1-year or 2-year warranty extension, software support for Lenovo hardware and some third-party applications.
Dimensions
Width: 170 mm (6.7 in.), height: 376 mm (14.8 in.), depth: 316 mm (12.4 in.). See Physical and electrical specifications for details.
Weight
Maximum: 9.4 kg (20.7 lb)